The guys at Ultra168.com (Australia's # 1 Ultra-Running web site) did a survey of the recent North Face 100 Ultra participants and have just published their results.
For the question "What nutrition did you use at the North Face 100?" the results are clear – Hammer Nutrition dominated!
29% Of Competitors Used Hammer!
We have 4 of the Top 10 products, combining to have been used by a staggering 26% of respondents!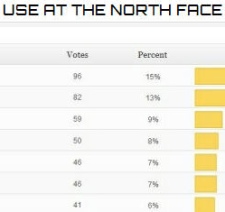 Add in another of our products that came in 13th (Perpetuem Solids) and you have 29%.
'Real' food (sandwiches, bananas, etc) came in 2nd with 15% and the free on-course product (Endura) came in 3rd at 13% …full results here
Thanks For The Ultra Support
We're really humbled by the support of the Ultra community and can assure you of great products and the right data to back up what we say.
I always want to finish off with some useful links, so here are the best 2 for endurance athletes:
Cheers and thanks again.
David and the Hammer team