State: NSW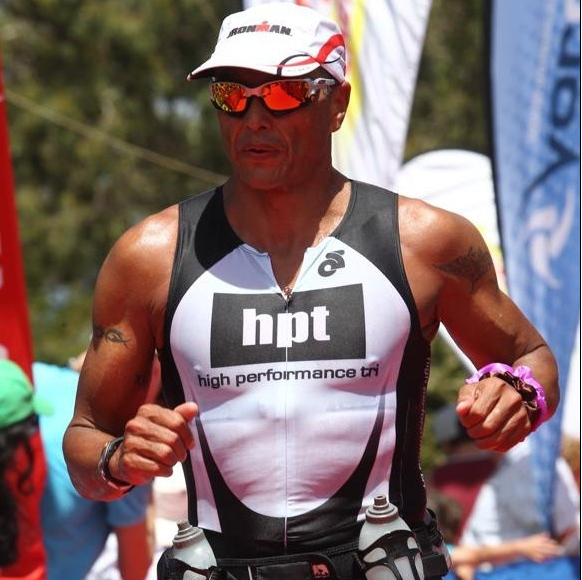 Sport: Triathlon
Sporting Accomplishment: Top 10 Age Grouper
How did you get into your sport:  First entered Duathlons and Triathlon as a dare from friends doing my first full Ironman at Forster 1996.  Originally participated in Duathlons before taking up Triathlon during a period of time living in Queensland.  I put Triathlon on hold for 17yrs while the children was growing up and stacked on the weight after a rather sedentary life style gaining a whopping 30 + Kg.  Re-entered the sport after a strict training program that placed me closer to my race weight of 80 kg clawing my way back to being a respectable competitor with a goal of top 10 placings.
Hardest thing about your sport:  Time to train for the three disciplines whilst fitting in a good balance between family, friends and work.   Staying focused after injuries or setbacks such as a bike accident or muscle tear.
What does your regular training week consists of:
Monday Morning –           Strength Session at Gym;              Monday Arvo — Swim Squad
Tues Morning –                 Bike;                                                      Tues Arvo —      Run
Wed Morning –                 PT Strength Session + Run;           Wed Arvo —        Swim Squad
Thurs Morning –                Bike;                                                      Thurs Arvo–       Run
Fri Morning –                      Swim;                                                    Fri Arvo –              Rest
Saturday –                           Long Ride ;   some weeks long Brick Sessions depending on load phasing
Sunday –                               Long Run range from 16 – 32 km depending on load phasing
How do you keep motivated:  Love the sport and positive nature of people involved in the sport;   with the three discipline training base, triathlon training also provides options to participate in other events.
Goals (Future Plans and Career expectations):
Improve on top 10 with a focus on Top 5 and a few podiums 2016/2017
Kona Worlds Ironman 2018 and Ironman 70.3 Worlds in 2019
Best piece of advice you have been given:   Remain humble, focused and positive and never under estimate hydration, nutrition and the mental state necessary to achieve your goals.