Steve Born is one of the true legends of endurance cycling.
But there's more to Steve than cycling.
Steve is totally dedicated to helping other athletes achieve their very best and to this end has devoted much of his working life to educating athletes on the best way to fuel their bodies.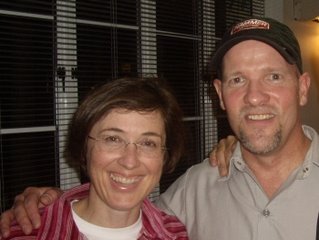 Steve with wife Cassie at tonight's Gold Coast seminar

Steve Doing What He Does Best
Attendees at tonight's Gold Coast Seminar were treated to Steve doing what he does best – providing information in a very relaxed and easy-going manner.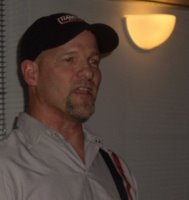 No "I'm a great cyclist so listen to me", just a gentle guy giving great info.
Steve's a true professional and I highly recommend you take some time out of your busy day to come along and meet Steve and have a chat.
As you can see by the pic from tonight – Steve can show you the light!
Don't worry – Steve's jokes are better than mine

)
Locations & Times

22

nd

– Sydney - Northern – 7.00pm – Manly Pacific Hotel (

Novotel

) – 55 Nth

Steyne

St, Manly 2095

23rd – Sydney – Eastern – 7.00 pm – Icebergs – 1 Notts Ave, Bondi Beach 2026

25th – Melbourne – 6.30 pm – South Yarra Sports – 679 Chapel St. South Yarra 3141
(Sean Foster from www.fluidmovements.com will be co-ordinating this seminar)

29th – Adelaide – 7.30pm – State Association House – 73 Wakefield St, Adelaide 5000
This is one of the best opportunities you will have to learn some of the best information available on Endurance Nutrition!
Click here to register now (All attendees receive more than the small cost of admission in free Hammer products, as well as discounts on Hammer products when buying from the web site over the next 2 months).
David