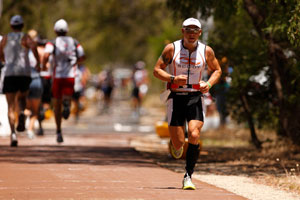 What are your sporting aspirations?
To be the absolute best I can be within the confines of running two businesses, and being a husband, dad and friend. That still means working out ways to race at the front end of the AG field with much less training time.
Who is your sporting hero?
It's too tough to narrow it down to one. I gain inspiration from many athletes.
What is your favourite race? Why?
As an experience, to date I would have to say Challenge Roth. You just can't beat riding up solaberg hill with 100'000+ people cheering. Closest you'll get to a TDF feeling
What is your greatest sporting achievement?
Going sub9 twice at IM WA. The second time winning my age group.
What Hammer Nutrition products do you use?
Perpetuem for long rides and 70.3 racing and up. Hammer gels for runs or short course. Endurolytes, Recoverite and then I do use some of the Hammer supplements we can't get from Hammer in Australia unfortunately. I use Daily Essentials, Endurance Amino, Super Anti Oxidant and AO booster.
Why do you Hammer Nutrition?
Simply because no crappy substances are used, the education from Steve Born is top shelf and adds value to the athlete.
Favourite Quote:
They change, but at the moment it's the "world class are comfortable being uncomfortable". Not sure who said it.