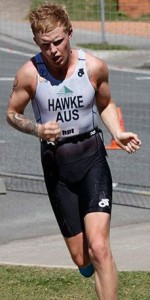 I had been mixing and matching products without any real effect, I saw a friend with one of the Hammer products and gave Hammer a go, I haven't looked back since.
1. What are your sporting aspirations?
Obtain a pro-license every kid's dream and hopefully become a high performance coach – giving back to the sports that brought me up.
2. Who is your sporting hero?
Steve Prefontaine and also Craig Alexander
3. What is your favourite race? Why?
Forster – Good to be at the old stomping ground of my coach who has competed in a few ironman's there and such a great venue.
4. What is your greatest sporting achievement?
Australian all schools – Cross Country and Running (1500-3000).
5. What Hammer Nutrition products do you use?
Endurolytes and hammer gels
6. Why do you Hammer Nutrition?
Nutrition is a necessity in any endurance event and Hammer provides that to me in the type of product and flavour that I can enjoy.
7. Favourite Quote:
"Somebody may beat me, but they are going to have to bleed to do it."